WHEN HEART TRANSPLANTATION BECOME NECESSARY ?
When your doctor assess your disease is advanced and the only option is transplantation
Cardiomyopathy,dilated or ischemic
Some congenital heart conditions where there is no effective treatment
Heart funtion has gone down from 70% to less than 20%
Severe angina or arrhythmias,where other therapies failed.
Age below 65 years
Pulmonary pressure less than 2 wood units
Sure that post-transplantation medication and followup followed.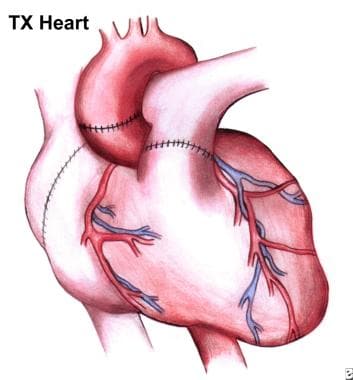 WHAT IS END STAGE HEART FAILURE ?
End stage heart failure is when the person is incapacitated to carry out daily chores in a relatively productive phase in spite of optimal medical treatment and exhaustion of other less invasive options.
WHERE DO YOU GET HEART FROM ?
Otherwise healthy brain dead patients following a road traffic accident, whose heart is in a healthy condition, not infected, not suffered damage is the ideal donor.
WHAT ARE THE TESTS TO BE DONE ON DONOR ?
Any signs of infection in the body by counts, an echocardiogram to exclude structural damage to the heart and evidence of viral infections like hepatitis or AIDS,etc are usually done on the donor.
WHAT ARE THE TESTS DONE ON RECIPIENT BEFORE TRANSPLANT ?
Donor should not have any serious disease of his or her other organs like kidney , liver or lungs. To exclude this in addition to biochemical tests like counts, renal funtion tests, liver function tests and xray, lung function tests, etc should be carried out
Should be excluded to be suffering from HIV,Hepatitis, epstein,cytomegalovirus, Syphilis,tuberculosis,etc
Possible cancer markers like PSA,CEA,ALFA FETO-PROTEIN,PAP SMEAR to be done
Donor should be catheterised to assess the pulmonary vascular resistance.
WHEN TRANSPLANT CANOT BE DONE?
Age more than 65
pulmonary resistance more than 4 wood
systemic infection
Active collagen disease or sickle cell disease
Active malignancy or treated within 5 years
Substance abuse,psychosocial instability
Unsure of follow up
Lack of social support
WHAT ARE THE RELATIVE CONTRA-INDICATIONS FOR HEART TRANSPLANTATION ?
Mild to moderate disease of liver and kidney, on treatment for malignancy, evidence of infections like viral hepatitis, age above 60, treated lymphatic malignancy, etc are relative contra-indications for heart trans-plantation.
WHAT ARE THE COMPLICATIONS OF HEART TRANSPLANTATION ?
The recipient rejecting the new heart which can be hyperacute, acute or chronic, increased chance for lymphatic malignancies, exacerbation of renal issues due to toxicity of immunosuppressants, side effects of long term steroid therapy like salt and water retention, Cushingoid features, diabetes, peptic ulcer,etc are some of the complications of Heart transplantation.
WHAT ARE THE IMMUNO-SUPPRESSANTS ?
When the new heart is transplanted , the immune system of the body mount an immunological reaction against the new heart mediated either by chemicals called antibodies or by specialised cells called lymphocytes. This result in what is termed as rejection which can be hyper acute, acute or chronic and result in functional deterioration of the new organ. The agents like steroids, azathiopurine,etc are used to suppress this immunologic reaction and these are called immuno-suppressants. These immunosuppressants are'nt without side effects. Their side effects are mainly renal impairment, gastritis, diabetes ,etc.
HOW LONG THE IMMUNO-SUPPRESSANTS SHOULD BE CONTINUED ?
May be this has to be continued life long. Usually a significat immuno-suppression is given at the time of implantation and is continued in a smaller dose for maintenance and then gradually reduced to the minimum doses. However during these titrating phase bouts of rejection phases may occur which need aggressive treatment with high doses.
WHAT ARE THE LONG TERM COMPLICATIONS OF HEART TRANSPLANTATION ?
Rejection, coronary artery disease of the new heart, myopathy of the new heart leading to structural damage and furthur failure, lymphatic maligancies and complications of the immunosuppressants like diabetes, gastric ulcer, renal diseases.
HOW DO YOU KNOW THAT THE HEART IS BEING REJECTED ?
General waekness due to acute phase reactants in the body, fever, elevated counts,renal impairment, echocardiogram wise decreased activity of cardiac muscle,ECG changes, etc are the evidences of rejection.
WHAT IS DONE IN CASE OF REJECTION ?
Once the rejection is identified , it is usually treated by fresh high doses of steroids and other immunosuppressants in addition to supportive measures and once controlled , again titrated down.