Becomes necessary in the following situations
Post-pneumonectomy empyema cavities
Chest wall tumour resection
Post-sternotomy sternal re-constructions
Pectus excavatum
Pectus carinatum
POST-PNEUMONECTOMY EMPEMA CAVITIES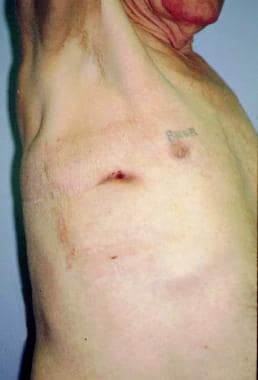 Post-pneumonectomy cavity obliterated by pedicled muscle flap.

In post-pneumonectomy empayema, the infected pleural cavity has to be sterilised and obliterated. The various procedures used are Thoracoplasty,pedicles muscle flaps, omental faps,etc. Pedicled muscle flaps used are often Latismass flap, pectoralis muscle,Rectus abdominal flap,etc
POST-STERNOTOMY STERNAL RE-CONSTRUCTIONS
Mid-sternotomy wound develop non-healing, osteomyelitis,sequestrum formation,medistinitis,etc. This one is a bad complication of open-heart surgeries which unfortunately happens only in 5% of operations. It poses significant risk to the structures underneath like grafts, aorta and valves within.
This is treated by repeated dressings to sterilise assisted with vaccum drainage followed by re-construction using pectoralis myocutaneous flaps or omental flaps.