WHAT IS A BULLAE ?
Bullae is a localised enlargement of a small portion of lung , common in bullous disease of lung, alpha-1 antitrypsin deficiency,obstructive lung diseases and restrictive lung diseases. If it ruptures,lead to a condition called pneumothorax where ,air gets collected inside the chest cavity and the lung gets collapsed. The resultant breathlessness and hypoxia can be life threatening.
WHAT IS PNEUMO-THORAX ?
Pnemothorax is collection of air between the lung tissues and the chest cavity. This happen following rupture of a bullae, rupture of a tuberculous focus or fallowing trauma. The resultant fall in blood oxygen level can be life -threatening.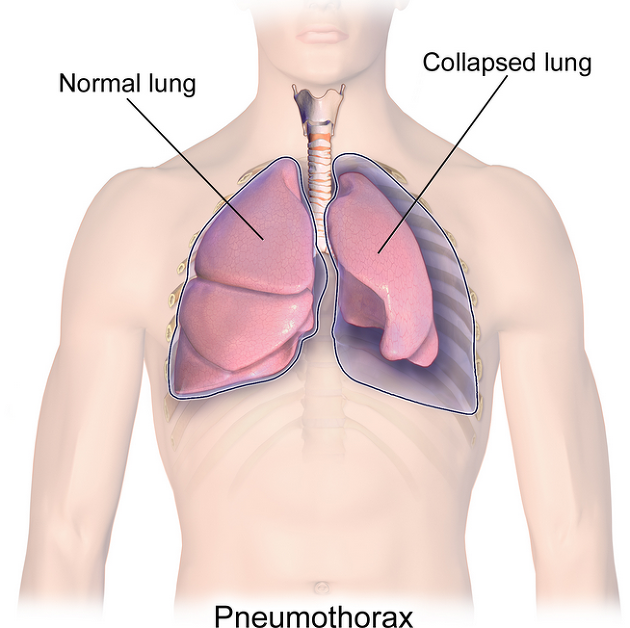 WHAT ARE THE SYMPTOMS OF PNEUMO-THORAX ?
Sharp pain in chest or shoulder that worsens on deep breathing or coughing
Chest tightness
Shortness of breath
Nasal flaring
Bluish discoloration of skin due to oxygen deficiency
Light headedness
Rapid heart rate
Fatigue
HOW PNEUMOTHORAX IS DIAGNOSED ?
Arterial blood gases
Chest x-ray
CT scan
Electrocardiogram
Thoracoscopic surgery for Pneumothorax
WHAT ARE THE ADVANTAGES OF THORACOSCOPIC SURGERY FOR PNEUMOTHORAX ?
Faster recovery
Only few hours or overnight hospitalization
Earlier ambulation
Sooner return to work
Very less pain during and after the procedure
Smaller incisions without any cut on abdominal muscles
Negligible risks and complications
Less chances of wound infection
High success rateBetter chance of breathing normally
Better quality of life